All products are made using natural cleansers
All True Pet Care products utilize natural alternatives to the harsh and sometimes harmful chemicals found in other products. Our entire line features products with all natural key ingredients.
Fragrances are naturally derived, providing a lasting effect
In developing our product's fragrance, we rely on only fragrances that come from natural extracts and essential oils, to provide a pleasant and long lasting scent.
All ingredients used to make True Pet Care products are sustainably harvested
While we strive to make our products safe for you and your pet, we also work hard to keep the earth safe, by only using products that do not take away from the land they are grown on and may be easily regrown.
Truly Natural Products For the Pet Industry
"Sustainable development is that which meets the needs of the present without compromising the ability of future generations to meet their own needs."
---
All True Pet Products are made with bio-renewable, cruelty free resources. If you look hard enough, it seems nature can always provide an alternative to harsh, man-made cleaners. After much searching and testing, we have found that alternative in palm kernel oil. True Pet Care Shampoos replace the harsh sulfates found in most shampoos with a natural alternative made from kernels of the Oil Palm Tree. Palm kernel oil leaves your pet's coat clean and soft without drying it out or leaving a greasy residue like some natural shampoos. All oil used is harvested responsibly and sustainably so that this resource can continue to grow and be of use for years to come.
---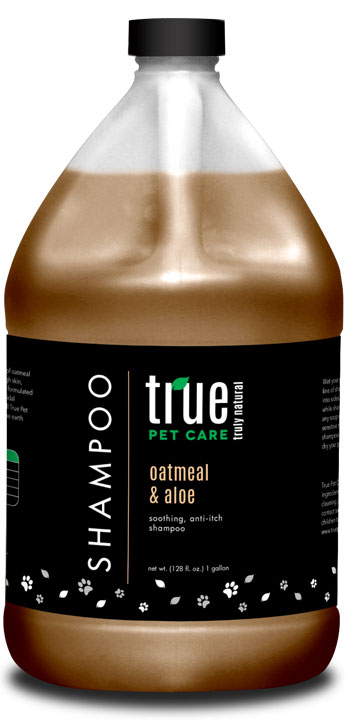 WHAT PEOPLE ARE SAYING
We love all the products at True Pet Care.  It can be very challenging to keep our very large golden retriever bathed and smelling good.  Love the Waterless Foam Wash and the Waterless Wash Wipes that leaves her coat really soft and shiny and the long lasting scent really leaves her smelling good.  Thanks True Pet Care for making this chore not seem like a chore anymore!!!
Our dog, Bella, LOVES it when people come to visit her and thanks to True Pet Care who has specifically made natural products that remove the urine scent and stains from Bella's excitement, and actually smell really light and fresh, we no longer dread people coming over.  Look forward to trying all the products from True Pet Care.
As a new customer to True Pet Care, my dog is terrified of water. The foam wash is a life saver! I used the product and it did wonders for my dogs coat. Most importantly she wasn't afraid of the product like she is with all other products that need water. I'm a customer for life and will be expanding into all other True Pet Care products because of my wonderful experience.
All the people at True Pet Care were so helpful and friendly when helping me decide which products to use for my pet with skin allergies.  They got back to me right away and I love that the products are all natural and safe to use on her red, rough, scratchy skin. I look forward to trying all their other products.