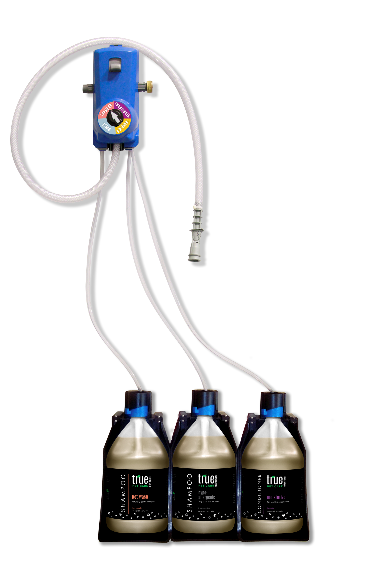 Non-Clogging Dilution System For Groomers:
The True Dilute System provides a cost-effective, time saving method of bathing for professional groomers. Competitors systems often clog and break down leaving shops back at hand dilution. Our system uses water pressure and gravity in place of a motor to dilute shampoo and bathe pets. We also add no thickening agents to our shampoo, this prevents clogging and ensures shampoo flows evenly through the dispenser and on to the dog.
Why Buy a Dilution System?
Proper Dilution of shampoos saves money, and plastic and time. There are 128oz per gallon of shampoo, are you using every drop efficiently? If your answer to this is no, a dilution system can save you and your company hundreds of dollars every year. With the True Dilute System, you will be diluting shampoo at an exact ratio of 16:1 every time.
Can I Use Any Shampoo?
Only True Pet Care Shampoo can be used, but here's why… our shampoo formulated without any thickening agents. This prevents clogging, lengthens the life of your system, and creates a better flow of shampoo. Our ready to use shampoos are thickened with table salt, take the table salt out and you've got a more concentrated, easy flowing shampoo and conditioner.
How Do I Change Out Bottles?
True Pet Care True Dilute Shampoo Gallons come to you with an insert and dip tube within the gallon. The gallon jugs act as a cartridge to be locked into the system and easily changed out or discarded once empty.
How Do You Clean The System?
YOU DON'T! Seriously, no cleaning is involved on the inside of the dilution system because clogging will not occur.
How Many Baths Per Gallon of Shampoo?
138 baths = 1 gallon of True Pet Care Shampoo used with the True Dilute System.