---
True Pet Care dilution systems have been built with the user in mind. These systems provide reliability, ease of use and most importantly, a safe and eco-friendly way to dilute concentrated products. Each gallon fitted is specifically fitted to its system with a "closed-loop" technology that allows for no spills or glugging. Guaranteeing and end-use cost and properly diluted product these systems are a must have for any animal facility.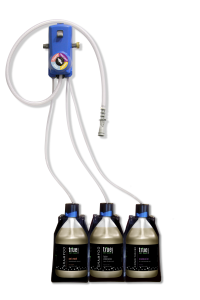 True Dilute Grooming System
Description: True Dilute Grooming System mixes a precise ratio of shampoo or conditioner to water to produce a safe, cost effective bathing experience for pets and groomers. With few moving parts and no pump, the True Dilute system requires no plumbing beyond a simple hose and continues to work without issue unlike other, more complex, bathing systems.
Along with efficiency the system is also extremely safe, "closed – loop" technology is applied to every jug used in the system eliminating any possibility of concentrated chemical getting on the hands of groomers or nearby pets.
Data Sheet
Naturesol Dispenser
Description: The system consists of two products, a parvo-killing disinfectant as well as a less harsh but extremely effective all-purpose cleaner. Allowing for surgical areas and kennels to be effectively disinfected while leaving other less contacted areas clean without the use of harsh disinfectants.  Each product is covered with a plastic insert preventing any possibility of concentrated chemical touching the users and/or animals nearby, each gallon also has its own flow- rate selector on the dispenser. The dispensing system is connected to a regular hose or water source, to dilute an exact ratio of product to water, creating an extremely low end use cost and perfect dilution every time.
Data Sheet